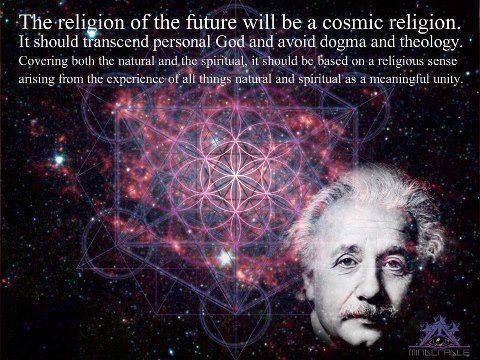 The growing process, from the single fertilised cell to the adult form of a biological entity with all its necessary parts, internal organs and external limbs and sensors, is developed with such incredible attention to detail and accuracy that one cannot help but feel such a process is being directed: that is seems to have been willed.
"Willed by God," insist the religious. But what would God will such a thing for? "Ah, the Lord works in mysterious ways that we are capable of understanding." Yet, that conclusion only turns the problem back to the start again. If we want to escape nihilism we have to understand purposiveness, and to appreciate authentic and universal purpose we must tackle the purposiveness inherent in the Universe itself.
If we surrender to a belief that we live in a Universe that has a purpose, but one that we are incapable of ever understanding, then that is just as nihilistic an attitude as the belief in a Universe that has no purpose at all.
Fortunately, for understanding purposiveness, life displays purposeful organisation. In fact, everything about life seems to be directed toward some purpose. Not only that, the inanimate universe has its own purposeful direction as well, the extremely complicated process of the creation of life and its evolution into sentient beings; beings that are capable of asking what the ultimate purpose of the creation of intelligent life can possibly be.
This is the key question of all metaphysics – and subsequently it is inherent in all philosophy and science as well; and all religions, of course. Nevertheless, in the case of religion, once God with a capital G has been found, it gives up the chase and sinks into the nihilism buried in the idea of "God's mysterious will". An end-point to all argument that protects its power through unquestionable dogmas. Religious power depends on maintaining its mystery.
THE WHEREABOUTS OF THE COSMIC WILL
However, if a cosmic will exists, where is it? If something is organising the Universe, where is it?
Once candidate could be gravity. Gravity has a very peculiar way of organising things: it makes things clump together, although that same homogenising process also enhances chaotic perturbations and creates another ordered kind of heterogeneity. Gravity is also a correcting agent against the destructive laws of thermodynamics; instead of disintegrating matter it creates structures that grow with time. While most hot objects become cooler if they lose energy, self-gravitating systems grow hotter. So, without gravity the Universe could never have created conditions for intelligence life in the Universe, but does that mean that it itself is the force that actually directs its own purposiveness?
If we were to mythologise this, we could resurrect the old concepts of the good and evil forces that rule over us and determine our lives: Thermodynamics is therefore a kind of Loki, bent on the nihilistic disintegration of his unloved father's creation; whilst Gravity is like Thor, trying to preserve it. In this Asgard of cosmic will, Electro-magnetism becomes a kind of demi-god. Its power is short-ranged and local whilst Gravity has an influence on astronomical dimensions.
Gravity is the great organiser of the Cosmos: and to create life and subsequently sentient, sapiens beings, the Universe needs to be organised.
THE SEARCH FOR PURPOSE: SCIENCE VERSUS RELIGION
The deeper we go in our scientific understanding of the Universe's creation and self-organisation, the closer science and mythology, and even religion, seem to be. But there is an enormous difference. Science takes nothing for granted, whereas religion takes everything for granted. Science, like philosophy, insists on a need for constant questioning, whereas in religion the questioning is retarded and manipulated in order to suit its own dictatorial needs and desires.
In other words: if we truly desire to understand God or the Cosmic Will, then it is imperative that one does so through scientific or philosophical processes rather than religious ones. Through experiment and calculus rather than prayer. The Alchemists were, and the cosmologists and sub-atomic physicists are, much closer to knowing God than any Pope.